Welcome to Southside Organizing Center!
Southside Organizing Center (SOC) is a neighborhood-based organization dedicated to the development and sustainability of Milwaukee's near south side neighborhoods. SOC works with and for residents to create a safe, livable, and economically vibrant community. SOC is committed to helping residents have a voice, vote, and vehicle to act together on the issues that affect them and to make positive changes in their neighborhoods.
GO BLUE: Grassroots Organizing Building Leadership, Unity, and Engagement
SOC regularly seeks input from residents and engages them in addressing community needs and priorities. We research, compile, and distribute resource information based on articulated community interests and needs.
SOC's district includes almost 90,000 residents within the following boundaries: Menomonee Valley on the south, Oklahoma Avenue on north, 1st Street on the east, and Miller Park Way on the west.
Our coverage area contains the most densely populated and diverse neighborhoods in the State, has the largest concentration of non-English speaking residents, and is one of the few areas of Milwaukee to experience population growth in recent years.
SOC is funded by individual donors, service contracts, foundations like the Zilber Foundation and Greater Milwaukee Foundation, and public sources like the Community Development Block Grants.

---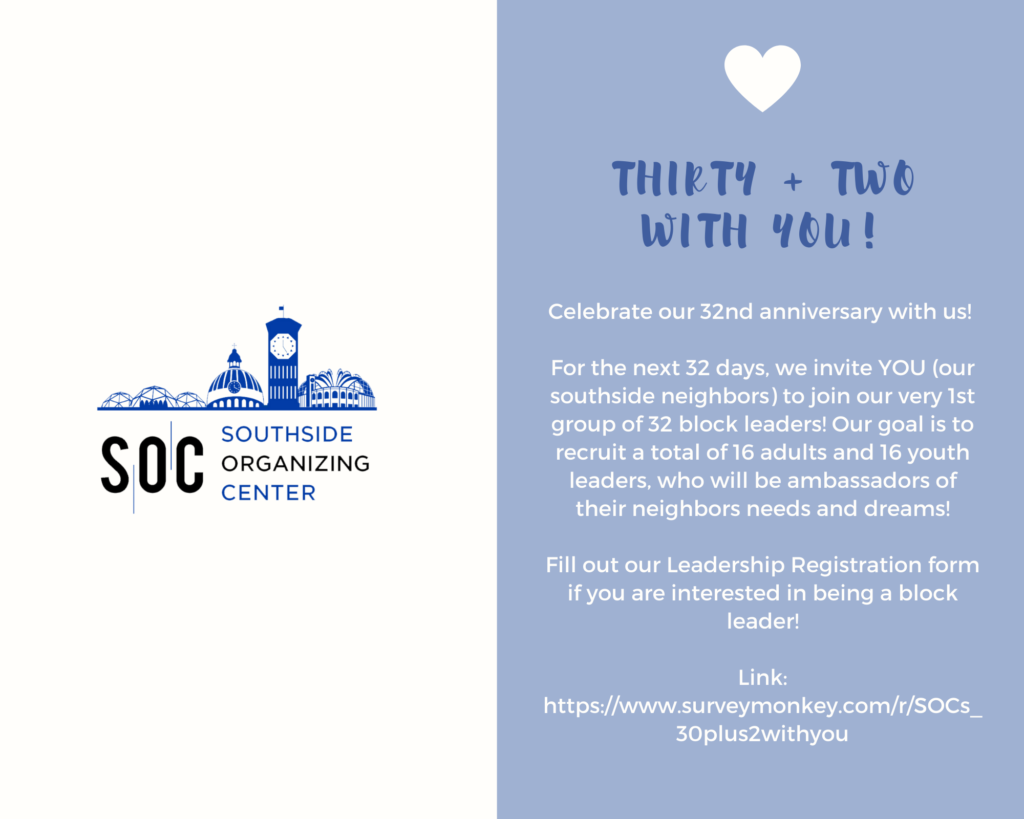 Celebrate our 32nd anniversary with us!
It's important for us to be connected to each other so we can pool resources, share information, address concerns, improve block safety, and help support one another. A block representative is someone who coordinates these efforts and is the neighborhood go-to person.
Interested in being a Block Leader?
Click the button below and sign-up! Fill out all of the questions on the Survey and we will contact you for next steps! Feel free to contact us if you have any questions.
---